Once a zip/postal code or city/state has been entered in the 'Near' search box, the listings found within the 'Distance' will be displayed showing the 'distance away'.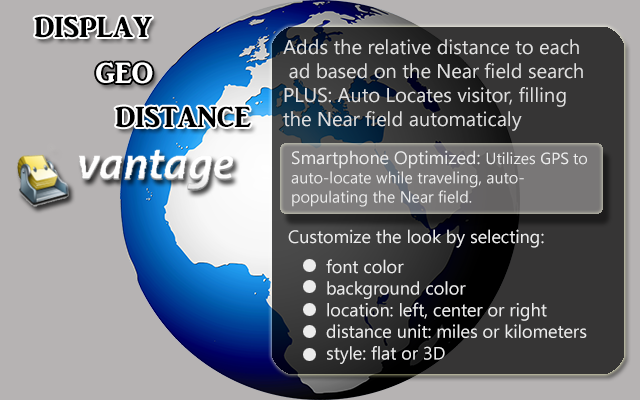 If you use the Vantage 'Single Listing/Event Map' widget on the Single Listing Sidebar with the option 'Show driving directions' checked, the visitor's current location will also be auto-filled in that field.
SMARTPHONE OPTIMIZED: The auto location is optimized for smartphone use. While traveling, this plugin utilizes the high accuracy of the phone's GPS to pinpoint your exact location. As you travel, you will see the location update automatically. Click the 'Search' button to find the ads near your location and to pause the auto location feature. On the move again? Refresh the smartphone's browser and your location begins filling the 'Near' field automatically as you travel.
Whether your settings are set to miles or kilometers, the distance displayed will be in that particular unit of measure.
READ MORE